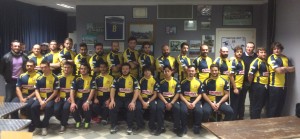 Partita a senso unico ad Arezzo, la squadra di casa si porta in vantaggio dopo appena cinque minuti con Grotti, oggi ottimo dalla piazzola, che finalizza un calcio di punizione portando il risultato sul 3-0. Dopo un quarto d'ora in attacco è sempre Grotti che trasforma un altro calcio di punizione portando il Vasari sul 6-0. Ma dopo appena quattro minuti Ambrogini converte in tre punti un calcio di punizione per gli ospiti. Da qui sarà solo Vasari e in particolar modo Grotti, che negli otto minuti successivi infila altri due calci di punizione portando il Vasari sul 12-3. A quattro minuti dalla fine per i ripetuti falli in mischia, il Cecina viene punito con un cartellino giallo ai danni del pilone Rettondini e si andrà negli spogliatoi senza ulteriori azioni degne di nota.
Il secondo tempo inizia meglio del primo, con ancora Grotti che mette tre punti dopo tre minuti e Gebbia che al quarantottesimo va in meta dopo una bella azione corale. Grotti trasforma e dopo cinque minuti, sempre per falli ripetuti, viene ammonito il numero sette del Cecina, la terza linea Papadia. Non passano 10 minuti che Mastrocola dopo una bella corsa e un'ottima finta va in meta, portando l'Arezzo a condurre per 27-3. Qui Grotti commette l'unico errore dalla piazzola della giornata. Dopo un'ora di gioco primo cambio per il Vasari, entra Alpini per Roselli e dopo dieci minuti anche i tre quarti cambiano con Donnini che sostituisce Brocchi, contemporaneamente per il Cecina Ciurli entra al posto di Papadia. La partita continua senza fatti eclatanti, con gli errori di manualità e disciplina che, a causa della stanchezza, aumentano per entrambe le squadre. A un quarto d'ora dalla fine entra Casagni per Guiducci, e la partita prosegue alternando calci di punizione a favore e contro per sei minuti, quando Grotti fissa il risultato finale sul 30-3, realizzando un altro calcio di punizione, stabilendo un ottimo 87,5% dalla piazzola e guadagnandosi il titolo di man of the match.
Da segnalare a nove minuti dalla fine l'entrata in campo, per sostituire Grotti, di Sebastian Annoscia, classe 1996, alla sua seconda apparizione in prima squadra, giovane mediano di mischia su cui saranno puntati gli occhi in questo proseguio di stagione.
Francesco Pennisi